Central Florida Shutters and Blinds Specialists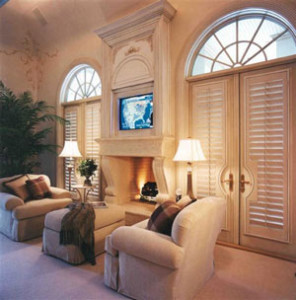 Central Florida's premier experts on all types of window treatments is The Blind Spot. We've been designing and selling blinds, shutters, and shades for twenty-five years. Our showroom houses hundreds of samples so that you can see and feel exactly what you'll be buying before you make a decision. Our Central Florida window blind experts can help you find exactly what you're looking for with our free design consultation. And once a decision has been reached we'll make precise measurement of the windows in your home and install your new window treatments, free of charge.
So if you're looking for professionally designed window blinds or shutters matched perfectly with the decoration of your home, call us today at 321-752-7288 and schedule your free consultation to get started.
Central Florida Window Blinds
Window blinds are common enough, and simple enough that they need little explanation. But it's our philosophy that they don't need to be common—which is why we offer a large variety of window blinds to suit the needs of any decoration style while keeping up their functionality. Our selection of wood blinds is sophisticated and large enough that you can find the exact style to match your home. We also have a large line of faux wood blinds, which will look just as nice but may be preferable for anyone with animals or children, as they'll withstand more damage. These window blinds can come in a classic pull style control, or more modern motorized versions. For kitchens, bathrooms, and garages, we have a line of vinyl window blinds that can withstand moisture and heat much better than wood. So whatever blinds you need, we're ready to be sure you're getting what's best for your home.
Central Florida Window Shades
Our team of Central Florida window treatment experts is dedicated to finding the perfect window treatments for your home. Our line of window shades can be just what you're looking for, with simple, elegant designs meeting functionality in the middle. Our Roman shades have a classic, subtle design, and go from opaque to translucent, so you can decide how much passes through. Solar shades will block out UV rays and heat, so that you won't just keep light from entering through your windows, but everything else the Central Florida sun can bring as well. We also have a line of skylight shades, with various control styles for those hard-to-reach windows. Schedule a free consultation and we'll be happy to work with you to find which options best suit your home.
Central Florida Shutters
With the erratic weather we frequently have here in Central Florida, your home can use all the protection it can get. Our window shutters are one more line of protection for your home against the elements. Exterior window shutters will not just give you privacy and let you control the amount of light you let in, but also shed rain and protect against flying debris. Of course, it's our philosophy that shutters should be great at all this while also looking great for and with your home.
If you need to contact a Central Florida Shutters & Blinds company then, please call 321.752.7288 or complete our online request form.