INDIAN HARBOUR BEACH SHUTTER AND BLIND SPECIALIST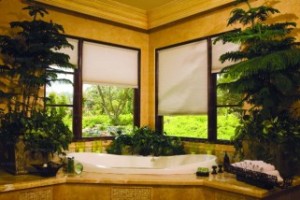 The windows of your home let light into your house and let you see the outside world without actually having to go outside, but what happens when you no longer want so much sunlight or people start looking into your house?  The Blind Spot is an Indian Harbour Beach window blinds and shutter specialist.  The Blind Spot has been supplying shades, blinds and shutters to Indian Harbour Beach and surrounding areas since 1988.
In our display room, we exhibit different samples of shutter, blinds and shades that could be installed in your house. Our displays allow you to touch, see and feel what these products will be like before installing them into your home. Blinds, shades and shutter not only add style to your house, they provide you with protection from the sun and privacy from your neighbors.
The Blind Spot supplies all types of window treatment services that involve installing window treatments, cleaning window treatments, and repairing window treatments.
Indian Harbour Beach Window Blinds
The Blind Spot is the best choice for blinds in Indian Harbour Beach, Florida. No other business in the area can supply you with quality blinds like ours.  When it's time to choose what type of window covering you want, blinds are the most popular choice. Blinds are very functional, and they can give you a traditional look or a modern look.
The Blind Spot supplies Indian Harbour Beach with blinds that come in all different styles, colors and designs. Some of the blinds that we offer include wooden blinds, faux wood blinds and vinyl blinds.
Our designers would be happy to help you find the perfect style of blinds to fit the style of your house. During your free consultation, our designers will help you visualize what your house would look like with different styles and colors of blinds. This will make deciding on the perfect window treatment much easier.
Indian Harbour Beach Window Shades
The Blind Spot also offers window shade treatments to the residents of Indian Harbour Beach.  Unlike blinds, window shades are less conventional form of window treatments.  They pull down in one unit to completely cover your window. Depending on how sheer you want them, they can be an excellent way to achieve privacy in your home.
The Blind Spot offers a variety of window shades including roman shades, solar shades and skylight shades. Roman shades are fabric based shades that can be bought with different degrees of transparencies.  They are seamless and gapless.
Solar shades are the best way to completely block sunlight from entering your home. They are a type of roller shade that provides great protection from UV rays.
Skylights are unique features on your roof, and they let in a lot of sunlight.  Sometimes they let in too much sunlight. If that's the case with your skylight, the Blind Spot can install skylight shades to help reduce the amount of sunlight.
Indian Harbour Beach Window Shutters
Window shutters are also provided by The Blind Spot for homeowners in and around Indian Harbour. Unlike binds and shades, window shutters go on the outside of your house. They another great option for blocking the sunlight from entering your home, and they protect your window from harsh weather.
Window shutters can also improve the exterior appearance of your home and increase your resale value. The Blind Spot offers free installation on all window shutters, window shades and window blinds.
Our designers want to help you improve the appearance of your house with high quality window treatments.
Customer Testimonials
The Blind Spot is Rated: 5 / 5
based on these 1 happy customer reviews.
---
"Everyone in the entire vertical buying process was efficient, knowledgeable and very professional. Jordan was very informed about her product, Beverly was quick to know what verticals we we wanting to look at in the showroom. In spite of the hurricane the verticals came in on time. The 2 fellows who installed the vertical were jewels. They came in, worked, help us put furniture back in place and showed us how to use the verticals. They wanted to make sure we were happy before the left. Thank you."
---
If you need to contact a Indian Harbour Beach Shutters & Blinds specialist then please call 321.752.7288 or complete our online request form.