Melbourne Window Shutters and Blinds Specialists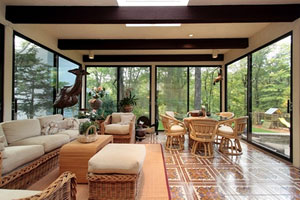 Since 1988, The Blind Spot has been designing and supplying window shades, blinds, and shutters in the Melbourne area, becoming the most trusted name in window treatments when it comes to functionality and design. Our goal is to match you with the best window treatment for your home, based on your practical needs, as well as the aesthetic qualities that will best suit your home's current décor.
We offer free design consultations by our Melbourne window treatment experts and our showroom houses hundreds of samples. Buying online can result in disappointment, but when you visit us, you'll know exactly what you're getting before you make a decision. After you've purchased one of our designs we'll make precise measurements of your windows and install the new treatments free of charge.
Call us today at 321-752-7288 for your free consultation and let us help you see the difference blinds can make.
Melbourne Window Blinds
All of our window blinds are the highest quality available, beautifully designed, and affordable. Our wooden blinds are simple but elegant. They'll easily add a touch of class to any home, and we have a large variety so that you can choose the perfect design for your decoration style. For homeowners with children or animals, we also have a large line of faux wood window blinds, which will be less susceptible to damage. And vinyl blinds can withstand extreme levels of moisture and/or heat, so recommend them for rooms like kitchens, bathrooms, and garages. Whatever you need blinds for, we'd like to help you make the best decision for your home, so schedule a consultation today!
Melbourne Window Shades
Our Melbourne showroom carries several different designs and colors of window shades because it's our hope that each customer finds an exact fit for their own home. Our Roman shades are a classic design and can range from completely opaque to almost transparent to let in different amounts of light. We also have a line of Solar shades, which are made of a material that will block UV rays and heat from entering your home along with light—these are a favorite for many of our customers because of the sometimes excruciating Melbourne summers.
For skylights, we have several options with different control methods and in a wide variety of styles and colors. For more information or to have a free consultation, call or stop by today!
Melbourne Window Shutters
Window shutters are a valuable line of protection between your home and the often unpredictable weather patterns in Melbourne and the surrounding areas. They mount on the exterior of your windows for they'll block out sunlight and help with storm drainage. Of course, they don't need to only serve this function, and we think they should also be making your home look—and feel—great!
Customer Reviews
he Blind Spot is Rated: 5 / 5
based on these 10 happy customer reviews.
"Had Plantation Shutters from the Blind Spot installed in our new home. From the very first time I went into the store and met Beverly, then Donna – I knew this was the right choice. When Derrick and his associate came to install – they were absolutely on time, very professional, and answered my questions. When I need other window coverings I will definitely call The Blind Spot. They are fantastic."
---
" The sales person was very knowledgeable and offered some advise that actually made the finish product better as it separated the top and bottom window partitions with the divider partition she recommended. The installation crew was very timely and took the time to review cleaning procedures and how to secure the shutters securely that block out any light that could come in."
---
"Derek and his associate did a great job with the installation of our two Symphony blinds today, July 30.Our only disappointment is that it took more than a month from the time we ordered the blinds until they were installed, especially since we paid for the blinds the day the order was placed"
---
"Thanks!

We have three large windows facing west overlooking the river, that are about 12 to 18 feet up on the wall All of the people at the Blind Spot were very friendly, and helpful in solving our afternoon sun problem. We got a perfect color and they figured out the logistics of installing them and giving us the maximum ease in using them. Thanks! Mary"
---
"The blinds are beautiful!

The blinds are beautiful! Thank you so much for helping us choose just the right window coverings! We greatly appreciate your expertise and kindness in helping to make this house – a home. Sincerely, Deborah (A Very Happy Customer)"
---
"Thank you!

Donna, my wife & I want you to know just how much we appreciated your referral for the services of Derek. He was able to piece together and restore the mechanical function of our bedroom darkening blind for our sliding glass door which opens to our lanai. His expertise with Hunter Douglas products was self evident.Although we were prepared have the blind taken down and returned to Hunter Douglas for "hopefully" warranty service or even replacement it proved not to be necessary. Thanks to the skill and perseverance of Derek and his associate.We also appreciate the time you spent with us to help us resolve this problem. Thank you again and rest assured we will make known to our circle of friends what kind of honest, fine service they can expect when dealing with The Blind Spot."
---
"We hired The Blind Spot to install shutters in our new home. We were really pleased with the quality of blinds and installation process. The suggested type of blinds have proven to work really well with what we had in mind and we are really pleased. Thanks again."
---
"I have been very impressed with the customer service at The Blind Spot. Donna, Beverly, Jordan and Derek were all very helpful, and it has been a pleasure to work with your shop. I am very pleased with my woven shade as well as my plantation shutters, and Derek did an excellent and meticulous job with the installation."
---
"I would like to thank the Blind Spot and Donna for installing another set of blinds in our home. We used them a few years ago and just added additional blinds to our sunroom. We will ONLY use the Blind Spot for our home and highly recommend them. Thank you, they are beautiful!"
---
"Excellent store. I really recommend them because they are very knowledgeable and they have a lot of options for blinds. Jordan was very nice and knew a lot of products that would fit our style. She came to our house multiple times to make sure the measurements were perfect. The installer was precise and careful and he was able to answer all of my questions I had concerning the maintenance of the blinds. What a great team! They always go out of their way to make sure their customers are happy!"
---
If you need to contact a Melbourne Shutters & Blinds company then please call 321.752.7288 or complete our online request form.