Palm Bay Window Blinds and Shutters Specialists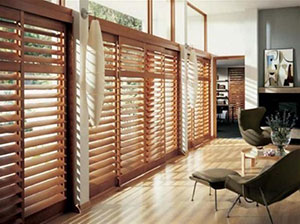 The Blind Spot is your premier Palm Bay window blinds, shutters, and shades specialist shop. For twenty-five years we've been designing and supplying window treatments to Palm Bay and surrounding areas. Our showroom boasts hundreds of samples to allow you to see, touch, and feel exactly what you'll be taking home before you make any decisions.
We offer free design consultations with one of our Palm Beach window treatment experts to help you get started and find what's right for your home and decoration style. And when you've made a decision, we'll make the exact measurements of your home windows to manufacture perfect installations, as well as install them for you—free of charge.
Call us today for your free consultation and get started on making your home look and feel a little better.
Palm Bay Window Blinds
Our window blinds are high quality and designed to fit your specific needs, both of functionality and aesthetic appeal. We have three main materials for window blinds, and several varieties of each to make sure our customers are able to find precisely what they're looking for.
Our line of wooden blinds is perfect for nearly any home. Their subtle elegance will match almost any decorative style and enhance whatever space they become a part of. For homes with children and/or animals, we recommend our faux wood blinds, which have the same appeal as wooden blinds but won't succumb as easily to damages. Our vinyl blinds are ideal for rooms like garages and kitchens, where they can be subject to high levels of heat or moisture. Regardless of your particular needs, our Palm Bay window installation expert can help you find the perfect fit for your home.
Palm Bay Window Shades
Window shades are often overlooked when we think of homes, but there's no doubt they're in the background, quietly making us love the way an interior looks as a whole. And that's exactly what our Palm Bay specialists would like to help you achieve. Our Roman shades are a quiet, classic style, seamless and gapless, that will make your home a little more elegant without calling attention to themselves. They can be completely opaque, translucent, or anything in between, so that you control the amount of light let in.
We also have a selection of solar shades, made from a material that blocks out UV rays and heat, so the Palm Bay sun doesn't wind up doing any damage to you while you're inside. And we have a line of shades made specifically for sunlights, which can be manually controlled or motorized.
Palm Bay Window Shutters
The way the weather is in Palm Bay and the surrounding areas, you can use all the protection against unpredictable storms you can get. Our large selection of window shutters, which are typically installed on the outside of your windows, will protect against flying debris and rainwater. Plus, they're an excellent addition to the outdoor appearance of any home!
If you need to contact a Palm Bay Shutters & Blinds company then please call 321.752.7288 or complete our online request form.