Shutters – Which Ones the Right One?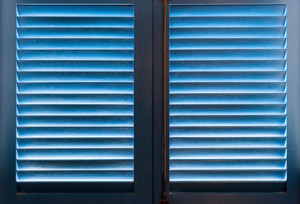 The first thing you should learn about shutters is that you don't have to match all of the ones in your home. For years the ideology behind window treatments was that every room had the have the same kind. Yet every room of your home doesn't look the same, right? So why match all the window décor.
Unless you live along a historic route and must abide by certain window dressing guidelines there is no reason you have to have a uniform look throughout the home. If you want all the windows to match because you feel it would be easier then that is entirely up to you. Just now this is not some homeowners rule set in stone.
Styles for Shutters
The window treatments you choose living along the Space Coast may be different than what you might choose elsewhere. Let's be honest, we are pretty blessed to have Florida sunlight all year long paired with some amazing views. So take that into consideration when making choices.
There are five main styles for the shutter and they are:
Café Style – popular in gorgeous places like the Space Coast because they only cover the lower half of the window for light and privacy. Leave the top of your windows bare.
Full Height – As the name implies, you cover the entire window but can open the slats or shutter door for more light.
Solid – Traditional style that covers top to bottom and is a solid panel without slats.
Tier on Tier – A combo of café and full. While these cover the full window, the top and bottom are separate panels giving you more control of how much light and privacy you have.
Special shapes – accent your custom windows with arches, sunbursts, triangles or other special shapes.
Find the Perfect Match for You
To say that we know window treatments is a bit of an understatement. Our team of pros here at The Blind Spot have been taking care of the needs of Brevard County homeowners since 1988. The only thing we are as passionate about as window décor is this gorgeous and unique section of Florida.
Our job isn't just to sell you window dressings. Our goal is to help enhance the look of your home while allowing you all the Florida sunlight you want in your home. It's just another way to transform your ordinary house into the home of your dreams.
Let us show you the options you have available and assist you in making the smartest choices. At The Blind Spot we want to be your trusted shutters experts of choice.
If you are looking for window treatments on the Space Coast then please call 321.752.7288 or complete our online request form.