Roman Shades in Your Florida Home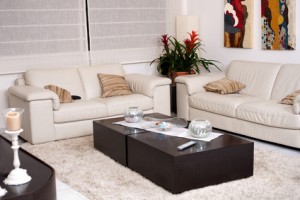 Roman shades are generally made from woven fabrics that can be lowered down in a cascading fashion. You simply adjust the height of the shade to control how much light filters into your home. This kind of shade is quite popular due to its pleasing aesthetics and its easy adjustment.
Finding that perfect Roman shade is as simple as picking up your phone to call The Blind Spot. We offer various sizes, styles and colors so we can help you match the decor of your room. Come visit our showroom to see them in action, too!
There are several different styles of Roman shades. Some are a plain design that comes in earth toned colors such as beige or olive. Another design is the cascading type. Again, this comes in a wide array of colors to suit your home. Other types of designs include: pleated shades, tulip style shades, relaxed shades, silk shades, floral shades and light filtering shades.
Unlike some other types of Venetian blinds that are made of aluminum alloys, Roman shades flaunt durable fabrics that provide a cozy feel to your home. This elegant option is always a good idea when you are looking for a change to your house's window treatment design. Give us a call today so we can set you up with a FREE design consultation!
If you are looking for more information on Roman Shades in Florida then please call 321.752.7288 or complete our online request form.