West Melbourne Window Blinds and Shutters Specialists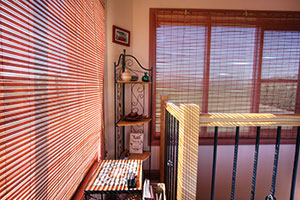 To make your home look and feel as good as possible is the ultimate goal of The Blind Spot, which is why we have West Melbourne window treatment experts ready to help you choose the custom blinds or shutters that will be the best addition to your home. We've been designing and supplying window treatments in the West Melbourne area since 1988, and our showroom houses hundreds of samples of blinds, shutters, and shades, so that you can see and touch what you're buying before you make a decision.
When you call The Blind Spot you'll get a free design consultation by one of our West Melbourne experts, and when you make a purchase, we'll do the window measurements and treatment installations completely free of charge.
West Melbourne Window Blinds
You might easily let window blinds go unnoticed, but the fact is that they're one of the most prominent features of a home. That's why our West Melbourne experts are dedicated to helping you select the right  blinds based on what they'll be used for and how they'll match your current décor. We offer a wide variety of window blinds including:
Wooden blinds: subtle but classy, these high quality blinds will enhance the feel of any room. And with several designs to choose from, you'll easily find blinds that were made with you in mind.
Faux wooden blinds: perfect for anyone who loves the look and feel of wooden blinds, but has children or animals in the home. These blinds will take more stress before becoming damaged than real wood.
Vinyl blinds: ideal for kitchens, bathrooms, or garages. Vinyl blinds can withstand extreme moisture and heat—which is great for any part of Florida!
Our West Melbourne experts are ready to hear from you and help you find exactly the blinds you need. Call and schedule your free consultation today!
West Melbourne Window Shades
Our West Melbourne window shade collection is made up of elegant, non-intrusive designs with functionality to boot. Our Roman shades are a simple classic design that come in a variety of colors and styles. They can range from very opaque to thin and translucent, so you can decide how much light they let in. Solar shades are similar in design, but made of a material that can block out heat, glares, and even UV rays. Solar shades are especially useful during our West Melbourne summers—not unlike our line of skylight shades. Our skylight shades can be manually operated or motorized and, again, come in a large array of style to fit the design of your home. Let us help you choose what's best for you!
West Melbourne Window Shutters
Window shutters, typically mounted on the exterior of your windows, help with drainage during a rainstorm, and they can be especially helpful with unstable weather we get in West Melbourne. And while we'd never argue against that, we believe they can also be there to make your home look a little better. We have several shutter designs at affordable prices that will be your first line of protection against the elements while taking your home's appearance over the top.
Customer Reviews
The Blind Spot is Rated: 5 / 5
based on these 1 happy customer reviews.
---
"Cellular Shades

Very satisfied with product and service."
---
If you need to contact a West Melbourne Shutters & Blinds company then please call 321.752.7288 or complete our online request form.